Have you ever wondered how custom, screen printed apparel is made? The ladies on our Swag Squad recently wore these beautifully designed jean jackets to the MIPPA Promotions that Roar event at Ford Field. We took special care to design a jacket that grabs attention while also serving the functional purpose of a uniform. We also wanted our team to love wearing this piece and have the option to wear it anytime, anywhere.
The Process
We started by designing several concepts of artwork for the jean jacket. We compared fonts, sizing, and layout to create the perfect combination.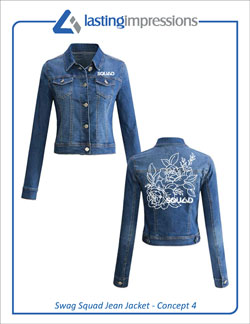 After comparing all of the concepts, we finalized the artwork and sent it over to Flying Colors Imprinting for production. The screen printing process consists of pressing ink through a stenciled mesh screen onto the apparel to create a crisp, printed design.
Once the jackets were complete, they made their debut on our Swag Squad at Ford Field. They were a huge hit and a great way to accessorize our team with fashionable and customizable gear!