LASTING IMPRESSIONS IS PROUD TO ANNOUNCE ITS CERTIFICATION TO THE
WOMEN'S BUSINESS ENTERPRISE COUNCIL!
This diversity certification is important to us and our team as we continue to grow under the new leadership of
CEO/Owner Angela Chryplewicz, CSO/Owner Carla Ejaz and COO/Owner Jeff Nowaske.
A Note from Angela & Carla:
Our Passion Behind Being a Women Owned Corporation
Diversity, Minority, Women Owned. How proud we are to be a part of this group! Coming from a family of entrepreneurs and hardworking women, the spirit to accomplish this ourselves was instilled in us at a very young age. Our grandfather, uncle, and our father all owned and ran successful businesses.
Our Aunt, who in 1975, in a male dominated corporate world, owned and operated a successful electronics company that she built from the ground up. The most impressive of them all? Our mother. A teacher with a degree from Michigan State and her masters from University of Michigan (she still roots for State!) had a full-time job while raising four children AND supporting her husband in his dream to run a successful business.
We have been lucky enough to have these extraordinary examples set for us, and because of this, we have always had the drive and determination to build that same life for ourselves and our families. We feel it is important to show our kids and the younger generation that with hard work and dedication, you can accomplish whatever you want in life. We love that we can come to work and kick-ass in a male dominated business world with the confidence that our team (75% women) can do it better than anyone around. We can also go home, be with our kids and families, and have just as big of an impact in their lives. You can do it all! Mother. Wife. Business owner.
Moving into the future…
With a little hard work and determination, ANYTHING is possible, and we are excited to move forward with even more growth and opportunities within the minority and women owned network. Dedication to our clients, employees, and the growth of our company is the focus for us and our entire team. We are unified in this goal and work every day to achieve it. Want to see what our team can do? Let us show you!
Angela & Carla
LET'S WORK TOGETHER
If you're seeking a women-owned business to work with on your next project, let's talk. Fill in your name and contact details below to start the conversation.
Angela Chryplewciz
Angela has experience in promotional products going back to 2005. She developed and leads web based purchasing programs for corporate and retail clients.
Angela specializes in purchasing and fulfillment efficiency to help clients achieve their merchandising goals. Since graduating from WMU with a marketing and advertising degree, Angela has had a passion for promoting companies through custom branding.
Angela loves cooking for family and friends on the weekends, spending time with her husband and three children, and a great glass of wine with some Italian food.
Carla Ejaz
Carla specializes in seasonal trends and corporate incentive programs. As Director of Sales, Carla has developed merchandising programs for a wide variety of industries all while managing the Lasting Impressions sales team.
She has enthusiasm for keeping up with the latest trends in the corporate and retail world. Carla is a 2009 graduate of Western Michigan University and serves as President of the Lasting Impressions charity, Living Loving Locally.
When Carla's not at the office, she loves to travel with her husband. In the summer, you will find her in northern Michigan, relaxing by the lake. She's an animal lover who currently fosters dogs.
Jeff Nowaske
Jeff is a marketing and advertising executive specializing in customized imports and operations management. He has a dedication to protecting your brand integrity and manages purchasing for large volume buys and for nationwide corporations and multi-unit franchises.
He is a proud 2004 graduate of Michigan State University and served as Director on the board of the Michigan Promotional Professionals Association.
On the weekends you will find Jeff rooting for the Spartans during any sports season and spending time with his wife and two kids. He enjoys playing golf in the summer and sipping on a bourbon – neat.
Our inspiration comes from others!
"Passion is energy. Feel the power that comes from focusing on what excites you." – Oprah Winfrey
"Be a strong woman, so your daughter will have a role model and your son will know what to look for in a woman when he is a man." – Unknown
"Never apologize for being a powerful woman." – Unknown
LASTING IMPRESSIONS IS A
WOMEN-OWNED AND FAMILY-RUN BUSINESS!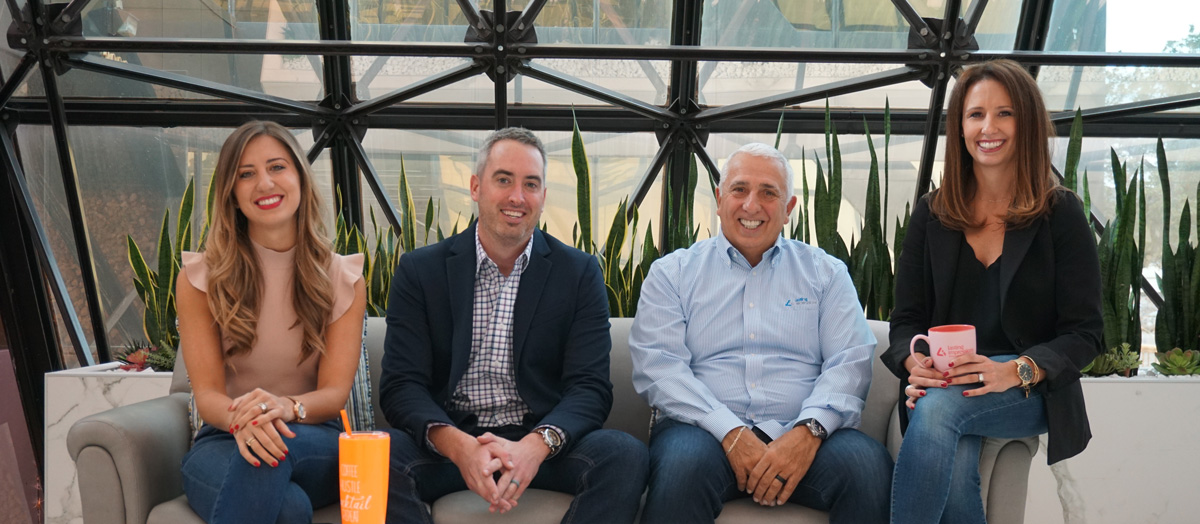 Lasting Impressions was recently interviewed by City Center for their move to a creative and innovative work space.
LASTING IMPRESSIONS IS LOVING THE CITY CENTRE VIBE!
Angela Chryplewicz has achieved a satisfying balance between family and work by purposely building her career within her own family-owned and operated business. And her working life is all the more enjoyable since her company moved to an inspiring new location in the Southfield City Centre.
Chryplewicz is co-owner and CEO of Lasting Impressions, a promotional marketing company she runs with her sister Carla Ejaz and their lifelong family friend Jeff Nowaske. Together they create branded marketing solutions for corporations, sports teams, restaurants, and others, finding new and interesting ways for their to imprint clients' logos and identities on mugs, t-shirts, and hundreds of other possibilities.
This year, Lasting Impressions moved from their former location in Westland to a temporary site at 4000 Town Center, making the final move to their newly renovated office just this month.
It was a smart move, Chryplewicz says.
"We love it when we have people walk in or come by to see us here. We have 4,000 square feet, and have a showroom that we put together," she says. "We have created a nice display of our work, and we encourage people to come by and meet us and see what we have done."
ALL IN THE FAMILY
Chryplewicz is proud to share the story of how she and her sister purchased the 42-year old family business from their father, founder Mark Dabiero, together with Nowaske, whose own father is a lifelong family friend.
In a way, the three co-owners were well prepared for their roles, given their years of experience in virtually every department and every job description in the company. Chryplewicz and Ejaz grew up in the business, working summers and vacations alongside their dad, and Nowaske joined them straight from college 14 years ago. He now serves as chief operating officer, while Ejaz is head of sales.
"It's a joke among us that sick days during elementary school and every summer vacation we were at work with dad. We grew up in the business," says Chryplewicz. When she graduated a semester early from college, she was surprised when her father put her straight to work. "I thought I'd at least enjoy Christmas vacation, but dad said get to work. It's our busiest season."
A certified Women Owned Business through the Women's Business Enterprise, Lasting Impressions joins an estimated 11.6 million women-owned businesses in the U.S. Chryplewicz impresses upon her own children the value of hard work and entrepreneurial spirit.
"It's important to me that my kids understand that they can achieve whatever they want, but also that it takes a lot of hard work," Chryplewicz says.
"Loving the Southfield City Centre"
When asked about Lasting Impressions' experiences so far in their new office suite, Chryplewicz shares her whole team's excitement. They love the new high-profile office and showroom in the Town Center for its inspiring corporate environment surrounded by dozens of successful businesses. The central location is a benefit she says all 15 employees appreciate. And they're excited to be in the Southfield City Centre, in the midst of a vibrant business and after-work climate.
"We are all loving the work-play-eat atmosphere of the City Centre," Chryplewicz says. "Some of our employees are really into fitness and do bootcamps outside, and take runs during their lunch breaks. We all like walking to restaurants on Evergreen. It's great to take advantage of all there is to offer here."
New city, new office. What's next for Lasting Impressions?
"We are focused now on gaining traction in the Southfield area," Chryplewicz says. "It's a new territory for us and we are looking forward to meeting our neighbors and joining the chamber of commerce to get to know fellow business owners. And we continue to keep on top of trends for the best ways for our clients to share consistent branding."
SUBSCRIBE TO OUR NEWSLETTER!